by Amanda Cuda
Photos: Christian Abraham / Hearst Connecticut Media
BRIDGEPORT — When is a water slide not just a water slide? When it's being used by children who have survived severe burns.
For those kids, the simple act of wearing swim trunks without a shirt or climbing up a ladder to use a slide is a tremendous act of bravery, said Steve Lupinacci, director of the Arthur C. Luf Children's Burn Camp [pictured above]. The camp, which takes place during the summer on 176 acres in the northern Connecticut town of Union, allows children 8 to 18 who have suffered life-threatening burn injuries to engage in a variety of activities from water slides to archery to theater.
"The camp instills in them that their injuries don't define who they are and what they can do," said Lupinacci, a retired Stratford firefighter and executive director of the Connecticut Firefighters Charitable Foundation.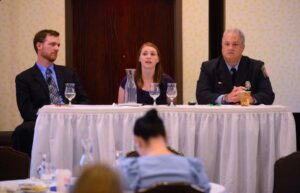 Lupinacci spoke Wednesday during Bridgeport Hospital's "Issues in Trauma Care" conference at the Bridgeport Holiday Inn. The topic of this year's conference was "The Trauma of Burns," and Lupinacci was part of a panel focusing on burn aftercare. Others on the panel included Eric LaBonte, a physical therapist at Bridgeport Hospital's Connecticut Burn Center, the only dedicated burn care facility in the state. The center treats nearly 200 inpatients and receives more than 1,000 outpatient visits each year.
LaBonte said recovering from burn injuries is a painful and difficult process, both physically and emotionally. One major hurdle he faces as a therapist is getting patients to move as soon as possible, which is crucial to preventing contracture — a shortening and hardening of muscles or other tissues that can permanently limit movement. Sometimes, tough love is needed, LaBonte said.
"The word 'can't' is the only word that's not allowed in therapy," he said. "Just because it did not happen today, doesn't mean it won't happen tomorrow or the next day."
Lupinacci agreed, and said discouraging "can'ts" is a huge part of the burn camp. Campers are quick to point out they "can't" do something — ranging from shooting a bow and arrow to feeding themselves — because of their injuries. But, Lupinacci said, camp staff often find a way they can do that impossible task, such as building a gadget that allows a child with missing arms to "hold" an archery bow.
The program started in 1991 and drew 32 campers. At the most recent camp, which took place in July, 68 campers attended.
As a retired firefighter, Lupinacci said he has long known the toll burns take on victims of all ages. But for years there was little support available to them outside of the hospital. To help fill that gap, in 1999, the Stratford firefighters created the Stratford Professional Firefighters Association, which has since changed its name to the Connecticut Firefighters Charitable Foundation.
In addition to helping with the burn camp, the foundation is involved with peer support programs for adults, community education and other efforts. The foundation also spearheaded efforts to raise money to add a family suite to the Connecticut Burn Center, where family members of burn victims can stay while their loved ones are hospitalized. The suite was added as part of the burn center's $1.5 million renovation in 2012.
Lupinacci said, as much as he loved being a firefighter, being a part of supporting burn survivors and their families has been more rewarding.
"My job as a firefighter was just a springboard to what I'm doing now," he said.