When Rebecca Ukaegbu (Ooo-Kay-Boo) thinks back on how she ended up as a student at the University of Massachusetts Medical School, she realizes she might not have gotten there if not for the years she spent at The Arthur C. Luf Children's Burn Camp.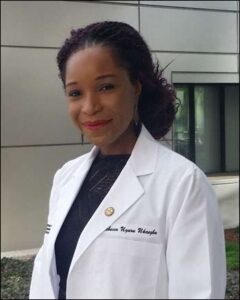 It was a place that offered her acceptance, friendship, and fun; where she could find the freedom to be a kid again when she desperately needed it.
"The camp was definitely a confidence booster," Rebecca said. "I met kids who were going through similar challenges as me. The camp gave me the chance to take a break from the daily reality of being burned. The camp helped me grow into who I am today."
After nine years as a camper, Rebecca has returned to be a counselor at the Children's Burn Camp for the last two years. It was something she had to do; it was like returning home again.
"It was a no brainer to return as a counselor," she said. "Counselors made time for me when I was here; now I want to give back to the kids who are in the same place I was at ten years old."
Rebecca has counseled the 8-9-year-old group, and has already seen kids enter stressed and overwhelmed and begin to see them blossom into happy children, who realize that limitations are only perceived and can be overcome.
As Rebecca, 24, studies to become a doctor, possibly a surgeon or dermatologist, she mentors young burn survivors to strive for their dreams.
It's been a long road for Rebecca who credits her mother for encouraging her to achieve her goals. After being injured in a house fire in the Benin Republic shortly after moving there from her native Nigeria at 8 years old, she found a home in Massachusetts with her mother, aunt, and cousins. As she walks the trails at the Children's Burn Camp now, she feels a deep connection here. After being injured in the fire, Rebecca knew that her future would be in medicine and it was during her years at Burn camp that she found the confidence to pursue her goals.
"Camp allowed me to build the confidence and grow into who I've become," Rebecca said. "I'm not shy and speak my mind. The camp is a very special place for me and all the children who come here."
Happy Holidays!