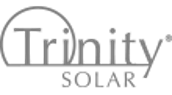 We have partnered with Trinity Solar – a family-owned company that helps homeowners take control of their electric bills by switching to solar at no-cost. Trinity's Communities Program allows us to raise money for the Foundation while helping our supporters answers about solar and programs that might give you no-cost solar installation.
Here's how it works:
Click this link: https://www.trinity-solar.com/organization/connecticut-burns-care-foundation or call 800-655-2500 and mention the CT Burns Care Foundation.
Trinity will evaluate your home for solar with no obligation and no commitment.
If you qualify, their team will reach out and set up a time for you to learn about the benefits of solar energy and find out how much you can save.
For each consultation (in person, phone or virtual), Trinity will contribute $100 to CT Burns Care Foundation.
If you decide to move forward and have solar installed, Trinity will contribute an additional $1000 to CBCF.
By making a consultation appointment, you're empowering yourself AND helping us obtain precious financial resources. Please take a moment and make the most of this opportunity.
We could use your help spreading the word. Please share this opportunity with friends, neighbors and family.
Thank you for your time and together we can raise critical funding for CBCF's programs, especially in these very difficult time. Please stay well!