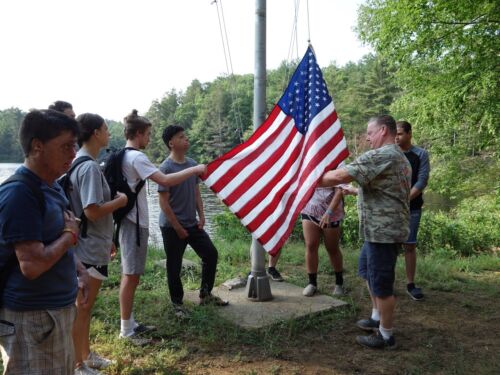 Thank you for your interest in serving as a counselor for the Connecticut Burns Care Foundation's Arthur C. Luf Children's Burn Camp.
The 2023 camp will be held from 11:00 a.m. Sunday, August 20th through 10:00 a.m. Sunday, August 27th.  All counselors must report to the camp on Saturday, August 19 for orientation at 10:00 a.m.  Staff can arrive on Friday, August 18 after 5:00 P.M. if they wish. Counselors must remain at camp all week until the campers depart on Sunday, August 27th
All individuals interested in participating must be at least 21 years of age. Fully complete the enclosed application and submit it to the Connecticut Burns Care Foundation, Burn Camp Selection Committee, 601 Boston Post Road, Milford, CT 06460. The deadline for the receipt of all applications for the 2023 Children's Burn Camp is June 1, 2023.
Please note the following:
Only fully completed applications are reviewed by the selection committee.
By applying, you do not automatically qualify for acceptance as a counselor in the camp.
The selection of counselors depends on many factors, including: experience at this camp
or other camps; certifications actively held in various activities like archery, ropes
course, canoeing, lifeguard, kayaking, or sailing; special interests like arts & crafts,
carpentry, culinary, plumbing, music, etc. and the number of campers attending.
Submit three letters of recommendation with your application.
A background check will be completed on you as part of the application process.
Every counselor must submit a copy of his/her physical exam (the exam must have been
completed within the last three years) using the special state required physical exam
form in the application packet. No other form can be accepted.
The Director of the Camp requires that each counselor make every effort to participate
in a few scheduled work parties to help prepare for the opening and closing of the camp.
All counselors serve on a volunteer basis.
Only one member of any immediate family shall be a counselor or staffer at any given
time.
We thank you in advance for your willingness to serve as one of our counselors. Thank you for helping to make a difference for our kids.